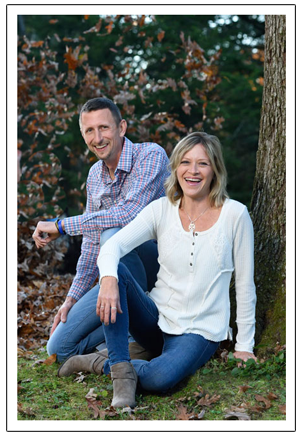 Mike and Holly met in 1994 when she was working at Cappy's Café in the Shadyside area of Pittsburgh. They learned this day that they would be in graduate school together for the next two years at Chatham College to earn their Master's in Physical Therapy. In this time, they became good friends and research partners. In 1996, they both began their careers at "the best place ever"- The Rehabilitation Institute of Pittsburgh (TRI) in Squirrel Hill. They felt so "privileged to continue to learn from great mentors and colleagues" at TRI, and to work in an extensive rehab environment serving all ages and abilities. They married in 2000, and had their first son, Michael in 2003. They call him the first Chatham baby, because Mike was the first male to ever graduate from Chatham College!
Changes within TRI in 1999, forced them to choose their path to adults or pediatrics, and each of them followed their passions, with Mike working at UPMC Rehab Hospital and Holly choosing to be at The Children's Institute. In 2001, Mike decided to create his own opportunity to make more of a difference in his patients, and they began Wellness For Life, Inc.
Mike traveled to homes in the beginning, and in 2006, the practice found its home in Squirrel Hill. Holly joined Wellness For Life, Inc. as a staff PT and an Early Intervention PT provider in 2007. Since 2009, Holly has contracted with The Alliance for Infants and Toddlers as an Early Intervention PT evaluator throughout Allegheny County. After residing in Squirrel Hill for many years, Mike and Holly now live in the suburbs of Pittsburgh with their four children, Michael, Charlie, Lewis and Hattie. They are proud to know that they continue to serve the Squirrel Hill and surrounding communities, and feel as if it is still their home.